Christianity at Newburgh School
As a Church of England primary school Christian values are at the heart of everything we do. We have six Gospel Values:-
Respect
Trust
Forgiveness
Hope
Thankfulness
Friendship
We look at one Gospel Value per term. Children are introduced to the Gospel Value for that term in their School Families during a half day session at the start of term and they are then encouraged to model this value in school.
The Gospel Value for the Autumn term is RESPECT
We are learning at school about the importance of treating others, ourselves property and our environment respectfully.
"Respect - to get it you must give it." - Anon.
We launched this value with a special collective worship about respect on Monday 6th September. Our unique Gospel Morning then followed with everyone from Reception to Year 6 being assigned a Gospel Family. Within this family our children completed activities and learned more about this value to demonstrate their understanding of how important it is to live this value out in their daily lives.
Powerpoint shared during Collective Worship to launch the value of Respect.
Powerpoint delivered by Spiritual Leaders on the value of Respect.
Spiritual Leaders
As Spiritual Leaders in each year group, all children are given the opportunity to prepare the weekly class worship and lead on the planning and delivery of a whole school worship once every half term. At the end of the child-led worship, the Spiritual Leaders are then presented with a certificate to recognise what they have done within their year group.
The rainbow certificate demonstrates all the knowledge and skills the Year 6 child has applied during their journey as a spiritual leader from Reception to Year 6. Children gain one stripe of the rainbow each year, starting with red and working towards violet to complete the rainbow in Year 6.
The Spiritual Leaders are responsible for ensuring that their class reflective worship area is clean, tidy and up to date with their learning in R.E. as well as the termly Gospel Value.
Spiritual Leaders are also able to participate in a weekly lunchtime club to develop their knowledge of our school vision, values and understanding of worship.
Spiritual Leader's Easter Assembly
Our Spiritual Leaders delivered an Easter Assemble to the whole school. Their presentation is here.
Key Stage 1 Harvest Worship
It was disappointing to have to cancel our planned Harvest worship in church when our children had worked so hard to prepare their worship. We filmed the worship instead and this can been seen using the link below:
Worship in Church
We try to have regular services in our beautiful church, Christ Church, Newburgh.
Welcome Worship - September 2021
This was a wonderful service led by our Year 6 children to welcome our new families to our school. Year 6 and Reception buddies were also announced and the Year 6 children also received their Prefect badges.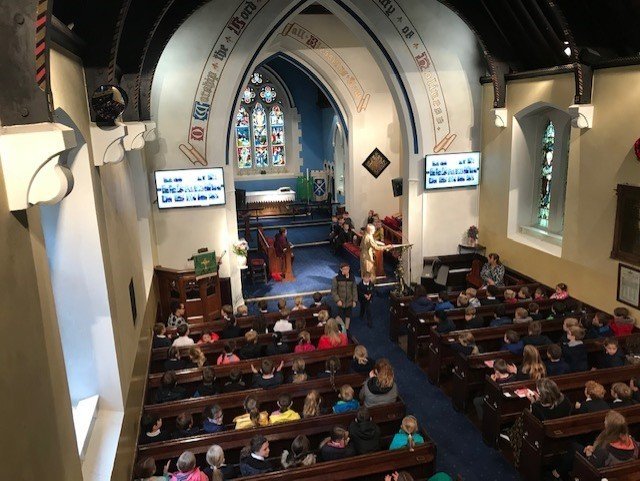 Palm Sunday Thought
By Suzanne Finch 19.03.21
In Matthew 21 verses 1-11 we read the account of Palm Sunday (which we remember this year on 28th March) when Jesus rides into Jerusalem on a donkey. The donkey was seen as a sign of peace whereas a war horse was the sign of a warrior King. The animal Jesus chose was a message to the people there about what type of King he was.
The people were expecting a warrior King to save them from the Romans; however Jesus was not (and is not) that type of King which helps to explain why the crowds were calling for Jesus to be killed a week later. Jesus did not come as an aggressive or dominating King to rule over a country by force. He came as a King of love and peace to rule over people's hearts. The crowds in Jerusalem misunderstood what kind of King Jesus was and what he had come to do for them.
Do we understand what kind of King Jesus is and what he has done for us? Jesus didn't come just for the people in Jerusalem at the time or the Jews. He came for us all. When he died on the cross he made it possible for us all to be freed from our sins and know peace with God.
In John 14 verse 27 Jesus says "I am leaving you with a gift - peace of mind and heart. And the peace I give is a gift the world cannot give. So don't be troubled or afraid."
Jesus left that same gift for us too. Do we have that peace he promises? Are there situations we are anxious about? Let's take time to tell God what worries us, knowing that he hears us when we pray and ask for his peace.
Lord Jesus,
Thank you that you know everything that worries me.
I am sorry when I don't trust you to help me and try to do my own thing.
Please help me to remember to tell you about things that worry me and to know that you are always with me.
Amen
Protection Thought
By Suzanne Finch 12.03.21
As I look out of my window this morning it is raining however it is daylight. It seems like we are emerging from winter with lighter mornings and spring is well on its way and this always makes me feel happier.
There is also the sign of lockdown ending with the school opening fully this week and the road map of dates and plans to enable us to get back to normality. I hope that everyone returning to school this week has enjoyed being back and seeing friends again. This progress and the fact that more and more people are being vaccinated is another real positive step.
Coming out of lockdown can bring its own issues. Can any of us remember what going out actually is after a year?! Although it will be wonderful to see people again it is natural to feel apprehensive, we have after all got used to a completely different lifestyle. Some people will embrace this new freedom while for others it will bring challenges.
I love the image that the Psalmist paints in Psalm 91 verse 4 'You can go to God for protection. He will cover you like a bird spreading its wings over its babies. You can trust him to surround and protect you like a shield.
In the days ahead let's remember that we are promised God's protection and be thankful that he is with us.
Lord Jesus,
Thank you that you promise to protect us and that we are safe with you.
We are sorry when we try to do things without you. Help us to speak to you regularly and listen to what you tell us.
Please help us to trust you for the future as you have everything in your control and always do the right thing.
Amen.
World Day of Prayer Thought
By Suzanne Finch 05.03.21
Recently my best friend sent me a CD (how old fashioned!) through the post. It wasn't my birthday or any special event. She sent the gift to me as a treat because she felt like it - and it absolutely made my day. Claire lives in Wales and I haven't seen her since September although we do keep in touch via the phone. I'm sure that this is a similar situation for us all and there is a long list of people that we haven't seen for months.
The Bible tells us in Lamentations 3 (Verses 22-23) 'The faithful love of the LORD never ends! His mercies never cease. Great is his faithfulness, his mercies begin afresh each morning.' It's wonderful to know that while we are unable to see many of our friends and families at the moment God is always with us and his blessings and love for us is new every morning and not occasionally when he remembers us.
Today is the World Day of Prayer where all over the world there are services being held to give thanks to God for his love to us. In Psalm 16 verse 8-9 the Psalmist says 'I am always aware of the Lord's presence, he is near, and nothing can shake me. And so, I am thankful and glad, and I feel completely secure.' It's wonderful to pray with others and be part of events like the World Day of Prayer to celebrate the great God we have, however lets also remember to take time to speak to God, not just when we remember, but daily as he is always with us never leaving our side.
Father God,
Thank you that you are always with us.
We are sorry when we forget to speak to you and thank you for your love and gifts to us.
Please help us to remember that you are near and that we are safe with you.
Amen
Lent Thought
By Suzanne Finch 26.02.21
The Church is currently in the season of Lent. This is a time of 40 days leading up to Easter Sunday where we remember the time Jesus was being tempted in the wilderness before starting his ministry. Traditionally people give up things for Lent - usually chocolate which is something I would struggle to do! I wonder if you have given up anything and whether you know why this started? This tradition began to help people turn away from things that distracted them from learning about God and was basically seen as a form of fasting.
In a quiet moment lets take time to think if there is anything in our lives that gets in the way of us knowing God. Do we take time to be still and spend time praying to him and telling him what's on our mind or is life too busy and are we easily distracted? There are some great promises in the Bible and one of my favourite verses to think about when I need reminding how much God loves me was written by Paul in his letter to the Romans (Chapter 8 verses 38-39) who says 'Yes, I am sure that nothing can separate us from God's love - not death, life, angels, or ruling spirits. I am sure that nothing now, nothing in the future, no powers, nothing above us or nothing below us - nothing in the whole created world will ever be able to separate us from the love God has shown us in Christ Jesus our Lord.'
It's wonderful to know that throughout our lives we have a loving heavenly Father alongside us who promises never to leave us. It's just as important to remember to make him a part of our lives not just in Lent but every day, and to be thankful that he loves us so much he sent his son Jesus to die for our sins on the cross.
Father God,
Thank you for all the good things you have given us to enjoy.
We are sorry when we forget to say thank you.
During Lent especially help us to spend time thinking about how we can live more like Jesus and follow his example.
Amen
St Valentines Day Thought
By Suzanne Finch 12.02.21
Have you ever wondered who St Valentine was and why he is the Patron Saint of Love? According to the internet he was a Roman priest who helped Christian couples to marry back in the 3rd century when Christians were being persecuted for their belief in God. Interestingly he is also the Patron Saint of beekeepers!
The New Testament was originally written in Greek, a language that has several different words for love all with slightly different meanings and not all the romantic, film type love we think about on February 14th.
The main word for love used more than 200 times in the New Testament is Agape. Agape love is the fatherly love that God shows to mankind. It is not deserved but is part of the nature of God and should be the love that we strive to show to each other. The greatest example of this type of love is shown by God sending his Son to die on a cross and rise again to be our Saviour.
One of the most famous passages describing this type of love in the Bible is 1 Corinthians 13. The long list found there is a great description of Gods love for us. As I read the passage this week I was particularly struck by verse 7 "Love never gives up on people. It never stops trusting, never loses hope, and never quits." What a challenge that is. Are there people we have given up on and do we need to change the way we treat others? Are there people that have given up on us? Do we give up hope?
Be assured that our Father in Heaven will never give up on us. He loves us and with him at the centre of our lives we can have hope for the future knowing that his love for us will never change.
Lord Jesus,
Thank you that you never give up on us.
We are sorry when we give up on others. Help us to show your love to everyone we meet and to be forgiving.
Please help us never to give up hope as you promise to be always with us leading the way.
Amen.
Candlemas Thought
By Suzanne Finch 05.02.21
This week (February 2nd) in the Church calendar we celebrate Candlemas or, the presentation of Jesus in the temple. Presenting children in the temple was a Jewish custom where families would thank God for the birth of their child and offer the child to God.
In Luke 2 verses 22-38 we are told that when Mary and Joseph took Jesus to the temple they were met by an older man named Simeon who had been promised by the Holy Spirit that he would not die until he saw the Messiah. Simeon, recognising who the Baby Jesus was, takes him into his arms and thanks God saying "Sovereign Lord, now let your servant die in peace, as you have promised. I have seen your salvation, which you have prepared for all people He is a light to reveal God to the nations, and he is the glory of your people Israel!"
We are told that Mary and Joseph were amazed by what Simeon said however Simeon was confident that he was holding the light of the world. A Saviour born for everyone including you and me.
Christingle services in some churches are sometimes held at Candlemas rather than at Christmas as Christians remind themselves of Simeon's words that Jesus is the light of the world. Simeon was overjoyed to see Jesus. Let's pray that we too will be as confident and excited as Simeon to tell others that Jesus is our Saviour.
Lord Jesus
Thank you that you are the light of the world.
When the world is dark and lonely help us to shine like lights and bring joy, hope and the excitement of knowing that you are our Saviour into other people's lives.
Amen
Creation Thought
By Suzanne Finch 29.01.21
I wonder if you have started anything new lately? January is traditionally a month to make changes by making resolutions which are invariably broken or forgotten about by February (if not a lot earlier!)
On the basis that I have a sit-down job and spend lots of time in front of a laptop I have made a conscious effort to get out of the house more often to get some exercise and use my lunchtimes where possible to walk around Standish. My knees felt every one of the 12,200 steps I did last Sunday! I have been amazed as I have been out to find places that I didn't know existed even though I have lived at my current address for over 20 years. It's also been lovely to see new life appearing such as plants starting to put up shoots, hear the occasional bird and even see the beauty of Gods design in the ice.
In Romans 1 verse 20 Paul writes 'For since the creation of the world God's invisible qualities - his eternal power and divine nature - have been clearly seen, being understood from what has been made, so that people are without excuse.' I agree wholeheartedly with Paul. When we look around and see the wonderful world we live in and the way is renews itself year on year this can only be brought about by a divine loving God and not by random chance.
Let's make time to be still and admire Gods beautiful world, the newness of the coming spring and be thankful for the beautiful area of the world we live in.
Lord Jesus
Thank you for the world that you created for us to enjoy. Thank you for the newness of the coming spring and the opportunities for a fresh start.
I am sorry for the times when I don't appreciate all that you have given me.
Please help me to spend time looking at the nature around me to help me learn more about your awesome power.
Amen
Thought for Forgiveness 2
By Suzanne Finch 22.01.21
There are many references in the Bible that refer to a loving, forgiving God. As an example in Daniel 9 verse 9 we are told "the Lord our God is merciful and forgiving, even though we have rebelled against him."
The well known phrase forgive and forget is a lot easier said than done. I'm sure there have been times in our lives when we have felt hurt and let down by others and there has probably even been times when we have been the ones that caused hurt or upset and needed forgiveness. Quite often when this happens the relationship takes a while to recover and sometimes is never the same again. This can be because when we have been let down it can be hard to forget and build trust again.
In Isaiah 43 verse 25 God says "I alone - will blot out your sins for my own sake and will never think of them again." God doesn't forget our sins, our awesome God doesn't forget anything. However he has made the decision not to think about them again if we are truly sorry because of his great love for us. He has forgiven us and wiped the slate clean which enables us to start over and live as he wants us to, in harmony with each other.
Are there people in our lives who we struggle to forgive and rebuild friendships with or are we people who have done wrong and need to ask for forgiveness? Let's remember to say sorry to God and those we have hurt and learn to forgive others following Gods example.
Lord Jesus,
Thank you that when we have done wrong and say sorry to you that you forgive us and give us a new start.
We are sorry for the times we don't forgive others and when we forget to say sorry.
Please help us to live by your example, in peace and harmony with each other knowing that you love each one of us.
Amen
Thought for Forgiveness
By Suzanne Finch 15.01.21
One of the most well known stories of forgiveness in the Bible is probably the parable Jesus told of the Prodigal Son in Luke 15 verses 11-32. Parables are earthly stories with heavenly meanings. In this parable Jesus tells his followers about a son who took his inheritance and left home for a better life, he spent all his money and ended up working feeding pigs. While doing that he realised that even the servants at home, were treated better than he was now and returned to apologise to his father and offer to take work as a servant. His father was overjoyed to see him home, welcomed him with open arms and celebrated his return with a large meal - he was forgiven.
In this parable the Father represents God and the Son represents humans. Often we do wrong and don't live our lives as God wants us to. Romans 3 verse 23 says 'all have sinned and fall short of the glory of God.' However, in John 1 verse 9 we are told 'if we confess our sins to God, he will keep his promise and do what is right: he will forgive us our sins and purify us from all our wrongdoing'. The message Jesus gives is that God loves us even with our human failings and when we repent He will forgive us and welcome us back to him. None of us can do anything so bad that God won't forgive us when we are truly sorry.
Lord Jesus
We are sorry that we don't always do the right thing and live as you want us to.
Help us and guide our actions to do the right thing.
Thank you that you love us and will forgive us when we are truly sorry.
Thank you that whatever we do you never stop loving us.
Amen
Thought for New Year
By Suzanne Finch 08.01.21
It's possibly a little late to be thinking about Christmas carols - however as I was thinking about the New Year the first verse of this carol came to mind:
O little town of Bethlehem,
How still we see thee lie!
Above thy deep and dreamless sleep,
The silent stars go by.
Yet in the dark streets shineth,
The everlasting light;
The hopes and fears of all the years,
Are met in thee tonight.
It's wonderful to know at the start of a New Year that because Jesus came to earth to be our Saviour all those years ago all our hopes and fears are met in him. In Luke 1 (verse 78-79) Zechariah declares "By the tender mercy of our God, the dawn from on high will break upon us, to give light to those who sit in darkness an din the shadow of death, to guide our feet into the way of peace."
As we are back in lockdown and the world is still a confusing place with lots of seemingly dark moments let's thank God that he knows our hopes and fears and cares about them. John 1 verse 5 says "The light (Jesus) shines in the darkness, and the darkness has not overcome it. There is nothing that God isn't in control of and he promises to be with us leading us through the days and years ahead if we trust in him."
Wishing you all a happy and safe New Year.
Lord Jesus,
This New Year, guide my feet, comfort my heart and strengthen my will. Guide us all by your hand to work together to help build a better world.
Amen
Thought for Advent
By Suzanne Finch 27.11.20
I'm not sure about you but I feel like I have spent most of this year waiting! Waiting to see friends and family, waiting to hear the news, waiting to see what I am allowed to do and this week waiting to find out what tier we will be in and how we may be able to celebrate Christmas. It's been fairly relentless.
This Sunday is Advent Sunday and the Church begins another period of waiting and preparation to get ready for the celebration of the birth of Jesus Christ at Christmas. It's a time of looking forward and remembering the greatest gift that was ever given to us, our Saviour Jesus Christ.
The birth of Jesus was prophesised a long time before it happened. Isaiah wrote 'Therefore the Lord himself will give you a sign: The virgin will conceive and give birth to a son and will call him Immanuel' (Ch7 verse 14). Immanuel means 'God is with us' God is not someone that we have to wait for. God was with his people back in the time of Isaiah and is still with us today. In fact, one of the last assurances that Jesus gave to his disciples while he was on earth was 'And surely I am with you always, to the very end of the age.' (Matthew 28 verse 20) telling them and us he will be with us in the future and forever.
As we prepare for Christmas and the excitement that it brings let's take time to remember the true meaning of the season and to be thankful that we don't have to wait for God. He is here with us right now and always will be.
Loving God,
Thank you for this time of year and the fun it brings.
In the excitement help us to remember the greatest gift to us all was your son Jesus to be our Saviour.
Thank you that you are always by our side and we never have to wait for your love.
Amen
Thought for Remembrance
By Suzanne Finch 11.11.20
November is a time for remembering. To begin with we have All Saints day where we remember the saints, known and unknown, who have had an impact on our lives and Christian journey. We then have All Souls day where we remember people that we have known and loved but who are no longer with us. Finally, we have Remembrance Day where we remember those who have died fighting in war and who have given their lives to protect us and give us freedom.
It is important to look back to events of the past and give thanks for the people who have given their lives for others and for those who have had influence on us. It's also good to remember events of the past and, where there have been mistakes, to learn from them to avoid repetition. Aristotle described the memory as 'the scribe of the soul' as it informs and impacts our decision making. The memories we recall today should drive us on to work for peace and harmony in the world.
The words of a hymn regularly sung on Remembrance Day are as follows:
O God, our help in ages past,
Our hope for years to come,
Our shelter from the stormy blast,
And our eternal home.
Under the shadow of thy throne,
Still may we dwell secure.
Sufficient is thine arm alone,
And our defence is sure.
These words remind us that God doesn't change and promises to be with us always. Deuteronomy 33 verse 27 tells us 'The eternal God is your refuge, and his everlasting arms are under you.' As we take time to remember today lets thank God for those who have given their lives for the freedom of others and for those people that God has given to us personally to help and support through life. Let's ask God to help us work together for peace knowing whatever world events occur God is with us.
Lord Jesus,
Thank you for those people who gave their lives so that others could have freedom and live in peace. Help us to learn from the past and to live in harmony with others and work together to show your love to the world.
Thank you for those people who have had an influence on our lives and supported and loved us in times of difficulty.
Help us to remember that you do not change and whatever goes on in the world that you are in control.
Thank you that we are safe with you.
Amen
National Society Statutory Inspection of Anglican and Methodist Schools Report (SIAMS)
As a church school we are routinely inspected by the Diocese in addition to other statutory inspections. At our last inspection we were graded as Outstanding.
A copy of our latest report can be found here.